10 ways to attract more B&B guests with your favourite cake
Nov 18, 2021
My lemon drizzle cake has been a key player in my bed and breakfast career. It's attracted new guests, made current guests very happy and created repeat guests.
It's given me content to post on social media and was once responsible for driving 2000 visitors a month to my blog from Pinterest, until I accidentally deleted the Pin🤦🏼‍♀️
It's kept my neighbours sweet and my cleaner's husband very happy.
And I know that many of my bed and breakfast course attendees have had similar results with their own lemon drizzle cakes.
So how does one very simple recipe achieve all that? It really is one of the easiest cake recipes going. I'm not going to win Bake Off baking that one every week.
I thought I'd share with you how my lemon drizzle cake has achieved so much for my business, and suggest some ideas for making your own signature bake work a bit harder for you!
Why put a cake in the room?
When I first started the B&B, I would offer tea and cake to arriving guests. I'd serve them in the guest lounge and spend as much time as they wanted chatting.
But guests would sometimes want to chat for hours. I'd spent the day cooking, cleaning, shopping and I was also doing evening meals at the time. I ran the B&B single handedly with my husband working away during the week. The dogs were going un-walked and I was running out of hours in the day!
The cake in the room, alongside the homemade shortbread biscuits, the tea tray with teapot and loose leaf tea, and the fresh milk in the fridge was my solution.
It wasn't quite the 5 star customer service required by the Visit England assessor but it was the next best thing and, to be honest, something had to give!
It also ended up being one of the most commented upon aspects of my B&B in my reviews. So a success with guests too! Not surprising as apparently, according to several survey, it turns out lemon drizzle is one of the UK's favourite cake!
Here's my lemon drizzle cake recipe
It's turned out that, not only is the lemon drizzle popular with guests, it's also become a rather good marketing tool. Hence, this weeks Top 10 tips on how to attract more guests to book directly with your lemon drizzle cake!
How to use your lemon drizzle cake ( or signature bake ) to promote your B&B
If you find this content useful, this is the sort of stuff we do every month in the B&B Academy Marketing Membership every month but in much more detail. It's just £25 a month and you can cancel at any time! Find out more here
1. Mention it on your website
If you offer goodies in the room for guests, then make sure you mention it on your website, preferably with a photograph of it in the room! Let guests know that you're a B&B owner who pays attention to detail.
2. Write a blog post
Members of my B&B marketing community know that I'm a huge fan of blog posts. Writing blog posts consistently have been key to getting my websites found on Google and attracting guests to book direct at my B&B.
Read my blog post >> 6 Reasons to write a blog for your bed and breakfast
3. Give your guests a recipe card
Guests were always asking me to share my various recipes. And when I first started running the B&B, I'd give out recipe cards to departing guests who asked for a specific recipe.
I always think it's nice to give guests something to take away. And if they make the recipe often, your B&B will stay front of mind!
You can create a recipe card on Canva and then get it printed with your local printer or print it online by uploading to Vistaprint, Moo or similar.
I've create a Canva Template for to adapt for your own recipes here
Lemon drizzle cake recipe postcard template - Canva
4. Send guests the recipe after their stay
At the core of any B&B marketing campaign is getting your guests onto your email list, so you can stay in touch and ensure they book with you direct next time. One way to do this is to send an email after their stay.
Also, If you want to encourage guests to leave a review after their stay,
Ask them how their stay was. Put a link to your Tripadvisor or Google Review page and ask for a review. Also say if anything wasn't quite right to let them know and you'll your best to put it right - great if you want to build up your reviews and it's an opportunity to divert a bad review to a direct conversation
Maybe put in a special offer if they book a repeat stay within x months - encourage them to book again before they forget about the great time they had with you
Put a link to sign up to your email newsletter and add your social media buttons - get them on your email list and send them regular emails,
Put in the link to your recipes - give them something back as a thank you for doing all of the above
5. Create an instagram post
You can create a basic instagram post with a cake as the photo and then tell a story about the cake in the caption, telling your followers to see the link in your profile ( link back to your blog post ) for the recipe.
Or put the recipe in the caption itself and suggest to followers that they save the post for later. By putting the recipe in your caption, your followers are spending more time on your post. This, along with followers saving your post, is a social signal. These are engagement signals to Instagram, telling it your post is popular and hence they'll show it to more people.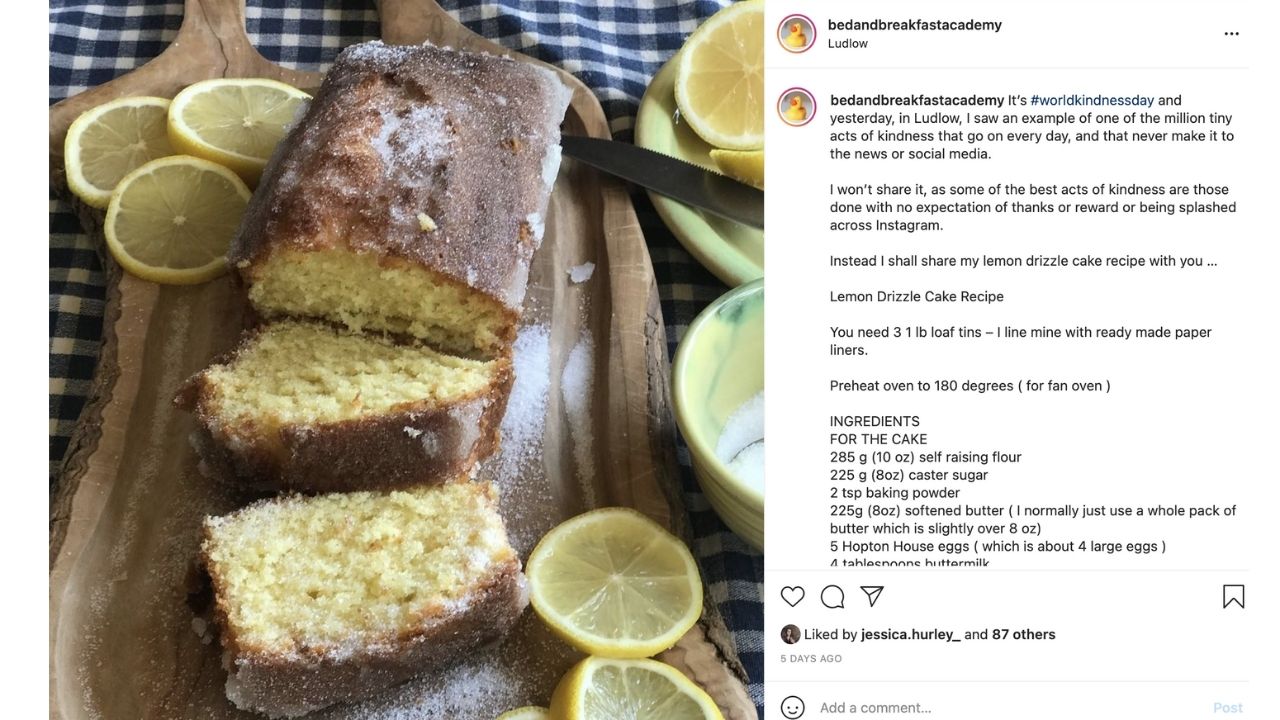 6. Create an Instagram carousel
All of the Instagram experts are creating Instagram carousels these days. They encourage your followers to stay longer on your post.
At a simple level you could just add multiple pictures. Or you can create a more fancy carousel like the one I did here >> Instagram carousel example
I've created a template of an instagram carousel here for you to adapt and use as your own and instructions on how to use it are in 2 videos below!
I did create a couple of instructional videos on how to use the template and create a carousel but unfortunately the software I used isn't play ball right now.
create a copy of the template, so you've got a copy just in case you want to go back to the original
edit it to fit your own recipe
download it to your computer as PNG
do a search on google for "pinetools split image"
upload the image into pinetools
select horizontally in the options, then select 6 in the quantity of blocks
hit the green split image button
then download the six files to your computer
create a blank instagram post on Canva and upload the 6 files
drag the first photo across to your blank post
then select add a page and copy the rest of the photos across so you have 6 pages
on your phone open the Canva app
open your design and select the download icon in the top right ( the box with the up arrow ), select save as PNG and all pages and download all OF the image to your phone. You can mow upload them to a post in Instagram using the multiple photos options - make sure you get them in the right order!
7. Post the recipe on Facebook
As with instagram, post the picture and a story and link to the recipe or put the recipe in the post and suggest people save it for later.
Note though that if you put a link in a facebook post, it's thought that facebook will show it to fewer people as they want people to stay on the platform.
8. Create an Instagram Reel
Reels are a great way of reaching more people on Instagram who aren't already following you. And it's not all about doing silly dances - though if it's that your things - go for it!
You can create a reel with a set of images or a set of videos. Next time you make your signature cake take a photograph or a video at each step , then create a reel.
Just make sure you're holding your phone upright not side on so you get the videos / photos in the right format for Instagram.
Note that using a cheap selfie stick with a tripod and bluetooth button is great for photographing cooking in the kitchen without you having to juggle wooden spoons and phones!
Click on photo for more details!
9. Post a video on Facebook or Instagram
As well as reel, you could create a full video of you creating your cake. You can do this with individual videos - like I did.
10. Create a Pin on Pinterest
The beauty of Pinterest is that it's more a search engine that a social media site and the content is evergreen. I have a 5 autumn knitting patterns blog that I created a few years ago and it takes off very autumn and generates hundreds of visits a week to my website.
My original lemon drizzle cake pin was created in 2012 and , despite the fact that deleted the original by accident, the repins are still sending a few hundred visits to my old recipe blog today!
Pinterest Ideas ( they were called pinterest stories ) are really taking off these days, so they are worth looking into.
Pinterest takes some work to get started, but if you're willing to put the effort in it could reap huge benefits.
Here's my blog post on How does Pinterest work and why you need it for your B&B
A final word
Is this worth the effort?
There is a certain amount of effort involved in marketing your own B&B. From writing blogs to creating instagram posts and posting on Pinterest.
If you're happy using the online travel agencies then that's fine. If you want to start generating more direct bookings, then this is the way forward.
in 2019 before the pandemic struck, I received a 5 night booking from a woman who said she was looking for a lemon drizzle cake. She ended up spending hours on my website and fell in love with the B&B. That's a £675 booking. Was that worth a day of my time writing a blog, taking photographs and posting on social media - I think so!
If you use any of these ides please tag me on social media so I can see your hard work!!
If you find this content useful, this is the sort of stuff we do every month in the B&B Academy Marketing Membership every month but in much more detail. It's just £25 a month and you can cancel at any time! Find out more here
Stay connected with news and updates!
Join our mailing list to receive the latest news & updates from B&B Academy
Don't worry, your information will not be shared
We hate SPAM. We will never sell your information, for any reason. You can unsubscribe at any time