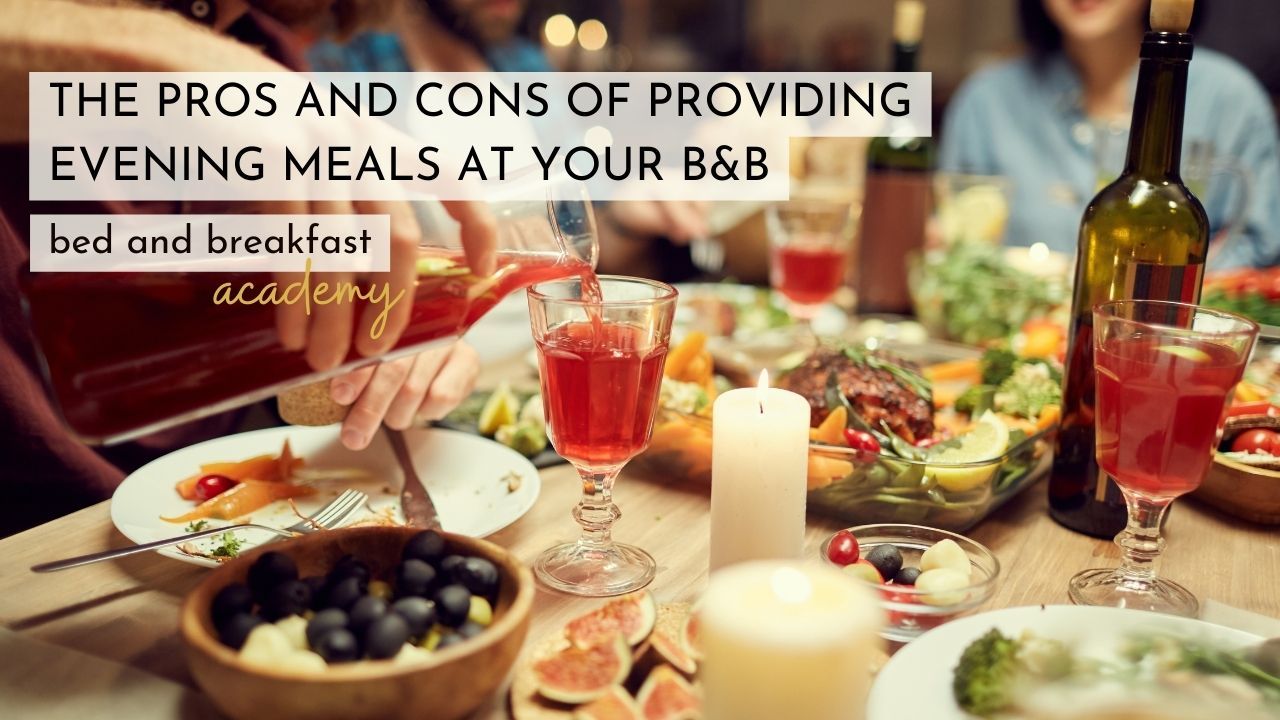 The Pros and Cons of Providing Evening Meals at Your B&B
Feb 08, 2023
Back in 2004, when I first started running my bed and breakfast, I offered evening meals to my B&B guests and I was surprised at how many people actually ordered them.
I've always been a keen cook and loved the idea of sharing my love of good food with my guests and providing them with an enhanced B&B experience.
As well as being an added extra for some of my guests, it was also a bit of an essential to attract more business, as we had no pubs or restaurants within walking distance.
Some people would just not book if they had to drive out again in the evening.
This included both people who enjoyed an alcoholic drink with their meal in the evening and those who just didn't want to go out again after a long day walking or sightseeing.
When I went to my first local networking B&B owner networking meeting, some of the older hands smiled wryly at me when I told them of the evening meals I was offering, and told me that I wouldn't be doing that for long.
I protested vehemently but they were, of course, right!
In this blog post I'll talk through some of the pros and cons of providing evening meals at look at the alternatives.
Pros of providing evening meals for your bed and breakfast guests
Convenience for guests
Offering an evening meal at a bed and breakfast means that guests don't have to go out again to eat in the evening.
This is not such a problem if you have places they can eat at within easy walking distance, but it is more of an issue if, like us, you can't get to the nearest pub without a car ( or a 3 mile walk along pitch black rural roads - really not recommended! )
Being able to eat in may be a selling point for guests who have just checked in after a long drive, train journey or flight, had a busy day out, are relying on public transport, are walking from one B&B to the next or want to drink alcohol with their meal and don't want to drive.
I know when I stopped serving evening meals, and before I started offering an alternative ( more on this in a minute! ), I did lose bookings because of it.
Potential to increase revenue
By offering evening meals, you are able to charge for them and potentially increase your revenue.
I have to say, in my own experience running a 2 bedroom B&B at the time I was offering meals, that I found it quite difficult to make a good income from providing meals to guests.
As a small B&B you don't have the economies of scale that restaurants and pubs do. And they tend to make their profits from selling alcohol.
If you are planning to serve evening meals in the UK, then I would strongly recommend that you investigate getting an alcohol licence, as this is where the money is to made.
If you're in the UK, you can find out more about how to get licensed here >> Do you need a licence to sell alcohol at your B&B?
Showcase your culinary skills
If you're a good cook, a chef and enjoy cooking, this is an opportunity for you to showcase your skills.
And, if your guests particularly appreciate your cooking, it may be a reason they return to you B&B or a service you can use to market your bed and breakfast to new guests.
If you offer meals that are not easily available elsewhere e.g. you cater for specific dietary requirements, such as vegan, kosher or coeliac only, then you may attract guests who wouldn't otherwise stay.
Cons of providing evening meals for your bed and breakfast guests
Extra Costs
If you are cooking in the evening for guests, then you will obviously incur higher food and energy bill costs.
You need to ensure that your evening prices cover these costs and also the cost of your own time.
I was charging £30 a head for a 3 course meal back in 2004. And that was only really covering my costs and for my family and I to eat the same meal.
When you think about pricing, as well as thinking of the cost of the ingredients, energy costs and your time, you need to consider the value of what you're offering.
You're not just selling a meal, you're selling the experience and convenience to the guests of being able to eat in and not go out in the evening.
Need to adjust hygiene standards
It will depend on your local council's requirements, but you may need to do more advanced food hygiene training than you would if you were just serving breakfast. The environmental health officer may also want to do more frequent checks and have different expectations of what is required of you with respect to food hygiene.
You'll need to consider how you will deal with requests for specific dietary requirements and allergies. Read more in this blog post >> Catering for special dietary requirements and restrictions
If you're catering for just 2 pairs of guests in the evening and they have completely different dietary requirements, you may find yourself having to cook several different meals.
Extra stress and workload
OK, so this is why I gave up providing evening meals.
Bear in mind when reading this that I ran my B&B single handedly, with my husband working away. I did get cleaning help and sent my laundry out later in my B&B career, but not at the time I was serving meals in the evening.
This is an easier and less time intensive task if you have 2 or more people involved!
My day would look like this
Get up at 6.30 am and shower and make myself presentable
7am-8.30am Breakfast Prep
8.30am - 10.30 am Cook and serve breakfast, chat to guests
10.30 am - 2.30 pm Clean kitchen, dining room, public areas, guest rooms
2.30 pm - 4pm Rush to shops to get supplies for the evening
4pm - 5.30pm Welcome arriving guests, serve afternoon tea and chat to them
5.30pm-7pm Prepare evening meals
7pm - 10pm Serve evening meals and chat to guests who liked to linger and chat and invite me for a glass of wine. Do my best to clear the awful mess in my kitchen
10pm -10.30pm ( if I was lucky and guests had left dining room ) Clear up dining room and lay tables for breakfast
I just got to a point where I was exhausted and questioning my decision to give up a 9-5 job with weekend off to work 16 hours days 7 days a week!
I was spending no time with my husband when he was at home at weekends ,as this was the time I was most likely to have guests in. And I was struggling to spend any quality time with my daughter - though once I started paying her to help me clear up, things did get a bit easier, at the same time as saying goodbye to any profits!
Guest's expectations
I would send my guests a sample menu in advance, asking that everyone in the party chose the same starter, main and dessert - "Think dinner party not restaurant" And request that they'd me know of any dietary requirements in advance.
But so often, they would both order different things from the menu. Or not let me know in advance, and then turn up on the day telling me they had specific dietary requirements and allergies.
Tips for providing evening meals for your bed and breakfast guests
Make things as simple as possible
I would suggest that you design the menu to be as simple as possible, with as few of the common allergens present as possible.
Design your menu for minimum effort and maximum effect!
Consider having dishes that will work well for both vegan guests and meat eaters. For example, a vegan tomato and olive pasta dish, which you can add meat to for the meat eaters. Bonus points if you can source a really good gluten free pasta so that you can easily cater to guests with coeliac disease or gluten intolerance.
If you want to do starters and desserts consider making these vegan too so you can limit the number of dishes you have to serve.
Have a set eating time
If you're not an night owl, then I wouldn't offer guests a choice of when to eat.
Tell them that you serve food between 6.30pm and 7.30pm and you'll need the dining room back by 9pm so you can get ready for the morning. It's common practise these days to be told on arrival at a restaurant that you've only got the table for 2 hours, so this really shouldn't be an issue for guests.
Consider having evenings when you won't provide a meal, both to give yourself a break and also to ensure you get a social life or time with family.
Offer a platter
Instead of evening meals, I started offering platters to guests instead.
These would be a local cheese platter, ploughmans with cold meats, cheeses etc, a smoked salmon platter or vegetarian or vegan alternatives.
I charged £25 for 2 people, but wouldn't do these for less than £30 now.
This solved the problem of guests not wanting to go out in the evening and meant I wasn't up late serving and clearing up.
I would leave the platters in the B&B guest room fridge, along with plates, cutlery and a whole loaf of homemade sliced granary bread and butter. And they were very popular.
I'll do another post dedicated to platters soon!
Final thoughts
Offering an evening meal can be a great way to attract guests and turn them into repeat fans and you may well attract guests who otherwise wouldn't stay with you.
But please don't underestimate the extra time and effort involved.
To ensure you don't suffer from burnout, make sure you have boundaries in place for when you'll serve food and the type of food you'll offer.
Or look for other ways of making sure your guests are fed whilst minimising your hands one time, such as platters.
Stay connected with news and updates!
Join our mailing list to receive the latest news & updates from B&B Academy
Don't worry, your information will not be shared
We hate SPAM. We will never sell your information, for any reason. You can unsubscribe at any time