My favourite tried and tested Christmas recipes
Dec 21, 2022
One of the reasons I enjoyed running a bed and breakfast was that I love cooking so much.
So whilst we're not great celebrators of Christmas - It's 21st December as I'm writing this and the tree has yet to go up. In fact our tree isn't actually a tree - you can see last year's version here - I do love to do all of the Christmas cooking.
Here are some of my favourite recipes - with a breakfast-y / baking theme - that are great for cooking for B&B guests or friends and family.
There are also some ideas for some last minute Christmas gifts you can quickly make to give to friends or B&B guests.
Scrambled egg and smoked salmon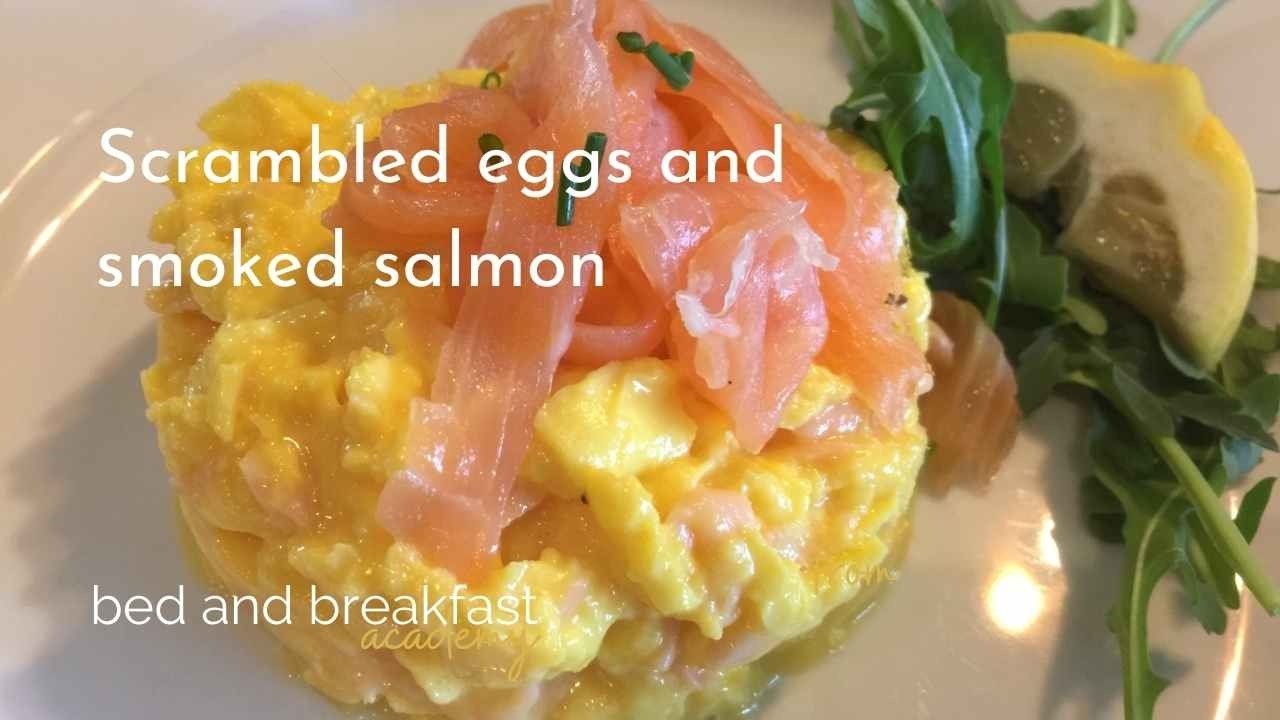 Scrambled eggs and smoked salmon is a classic Christmas breakfast dish and was probably one of the most requested breakfasts at my B&B.
For Christmas morning it's quick and easy to make and not too heavy, so you'll have room for the main event later in the day.
There are several ways of cooking it, but I finally settled on this one. It's a creamy concoction of eggs, with the Salmon stirred in, all piled on top of an English muffin.
Homemade Shortbread
It's always nice to have a few treats on hand around the house at Christmas. These homemade shortbread biscuits are perfect with a cup of tea or for giving away as gifts to friends or guests.
At Christmas I like to turn them into mincemeat shortbread by adding a teaspoon of cinnamon to the flour. Then spreading half of the uncooked shortbread dough in the base of the tin ( this is easier if you can roll it out ), put the contents of a 1lb jar of mincemeat on top and spreading it out, then adding the other half of the shortbread dough on top.
Much easier than faffing around with making mince pies IMHO 😂
Hollandaise Sauce without the tears
Eggs Benedict is another favourite Christmas morning breakfast. But if you're not used to cooking hollandaise sauce, then Christmas Day is probably not the best time to start.
Before I discovered this method of making hollandaise, several of my hollandaise sauce attempts did end up in tears. But doing it this way is really going to minimise the chance of failure!
My favourite Granola Recipe
Granola is another great option to give away as a homemade Christmas gift to guests or friends.
Put it into a pretty kilner jar and add a ribbon!
You can make it more Christmassy by adding christmas spices or adding in some dried cranberries.
Sticky ginger cake with buttercream
If you've not managed to make a Christmas cake this year, or, like me, you can't stand the stuff, then this is a great Christmassy alternative.
Ginger cake with butter icing is my probably my favourite cake, and this is a good one!
Maple Oat Ginger Scones
If you're after something gingery at breakfast then these Maple Oat Gingery Scones are perfect.
They have the advantage of being made ahead, so you can cook straight from the freezer.
Cheese and Oat Biscuits
These cheese and oat biscuits are another great option for a last minute gift.
I originally made them for a friend, in a panic an hour before going round to her Christmas party, as I'd forgotten to get her a gift.
She loved them so much that she ended up asking me for the recipe and selling them.
They also make great appetisers to have with drinks.
Stay connected with news and updates!
Join our mailing list to receive the latest news & updates from B&B Academy
Don't worry, your information will not be shared
We hate SPAM. We will never sell your information, for any reason. You can unsubscribe at any time